Location & Hours
Sakonnet Eye Care
811 Aquidneck Ave
Middletown, RI 02842


| | |
| --- | --- |
| Monday | 8:00am - 5:00pm |
| Tuesday | 8:00am - 5:00pm |
| Wednesday | Closed |
| Thursday | 8:00am - 5:00pm |
| Friday | 8:00am - 5:00pm |
| Sat. & Sun. | Closed |
Get Directions
As we began to have thoughts of how to re-open post the Covid 19 stay at home restrictions, I pondered what the future would look like for me, and made the difficult decision to retire from my long career as a general optometrist. The fact that I am no longer young (I don't want to say old yet!) influenced my decision, as did my desire to safely spend time with my wonderfully vibrant 92 year old mother and my awe-inspiring 1 year old granddaughter.
To say I agonized over this decision would be an understatement. I have been honored and blessed to have had a wonderful 40 year career. I have worked with talented and compassionate colleagues for whom I am forever grateful. Practicing with Dr. Healey, sharing patients, chatting across our desks, and laughing or crying over events of our lives has been a joy. Her professionalism, expertise and caring attitude are unsurpassed. Sakonnet Eye Care has had many wonderful staff over the years. Pam and Bridget are stars. Even though I was just getting to know Connie before the stay at home order, I am confident she will be a great addition to the practice.
But this letter is to my patients. Until recently, my plan had been to decide on a retirement date a year ahead, and then to spend the next year saying goodbye to
you, my patients. Sadly, this letter will be my goodbye and my thank you. I have been honored to serve as your doctor, and cherish many of our interactions as you shared pieces of your lives with me.
If you have an appointment scheduled with me, the office will be calling you to reschedule with Dr. Healey.
Thank you for making my career far more than a job.
Sincerely,
Donna L. Gavin, O.D.
Are you concerned a cataract could be affecting your sight? Learn about how cataracts affect your eyes and how they can be treated.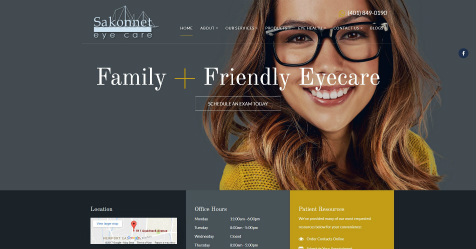 After a lot of hard work with EyeMotion, our website company, we're pleased to be launching our brand-new website. Our goal has been to create a site that would assist you in learning about us, whether it's finding our location or email form, reading about our wonderful eye doctors, or discovering some of our quality products and services.
Have questions about an eye issue? We think you might also benefit from our great optometric content on eye diseases and conditions.
Our plan is to use this area to keep you informed on new offerings, sales, trunk shows, events, and so much more. Check back here from time to time to keep updated.
We're glad you found us, and we hope to see you soon!